2016 MLK Service Project
14th Annual Martin Luther King Jr. Service Project Works on 47 Homes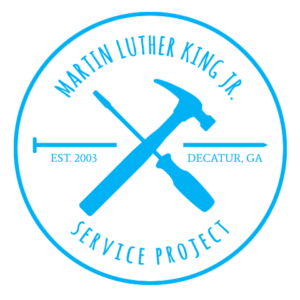 Decatur's 14th annual Martin Luther King Jr. Service Project once again brought together community members and volunteers from throughout the metro Atlanta area, long time volunteers and first time volunteers, skilled professionals and the unskilled, to personify Rev. Dr. Martin Luther King Jr.'s vision of a "Beloved Community." Over 1,300 volunteers helped repair 34 homes of senior citizens and do yard work and landscaping at those homes and 13 more, leading to a total of 47 senior citizens' homes benefiting from this service weekend.
The breadth of work done was remarkable. There were many simple, yet life changing, tasks, such as simply de-cluttering decades of former treasures that had accumulated within the homes. The seniors had been overwhelmed by the thought of clearing out these items and physically were not able to take them out of their homes for pick up by Sanitation. A steady stream of volunteers helped the homeowners sort through the items before taking the items to the five rolloff dumpsters that were filled. There was such a large accumulation that many items were still left at the curb for future pick up.
Yard crews did a massive amount of work. During the first shift of the weekend, they had already filled 1,200 lawn and leaf bags. Throughout the weekend, they filled one and a half pallets of yard waste bags. Numerous volunteers worked to deep clean homes and a vast amount of painting was done. Other volunteers helped organize and distribute over 1,200 tools rented from the Atlanta Community Tool Bank.
There were also many technical and complex jobs. Numerous ceilings where portions had fallen had to be replaced. Sagging floors were braced. A total of four kitchens were renovated. This included laying new linoleum and, in one instance, removing four layers of old kitchen flooring before new flooring could be placed. New kitchen cabinets were installed in a home. Two furnaces, a washing machine, a refrigerator, a stove and a window unit were installed in various homes. A cement porch was demolished and replaced with wooden stairs. Rotted floors and subfloors were replaced. Water damage was repaired. Plumbers repaired numerous leaks, including from toilets not being properly attached. Electrical problems that had been identified during the assessment of the homes were rectified by electricians.
Target areas for the Project are tasks that improve health, safety and affordability. Some steps in making the homes more affordable to live in were as simple as replacing lightbulbs with LED bulbs. One home benefitted from the Weatherization Team powered by Southface. This team worked with House Captains on one of the most comprehensive weatherization projects to date. Volunteers from Southface worked over three days to seal up leaky and inefficient ductwork, lay a vapor barrier to control moisture, seal up holes in the floor and attic, and prep the attic for new insulation. The homeowner can expect lower bills, but more importantly should be able to breathe better with improved air quality. Homes where other volunteers worked should also see lower bills after holes and gaps that brought in drafts (and squirrels!) were filled.
At the end of the Project, the Community Center of South Decatur (CCSD) provided the celebration dinner for the volunteers and senior citizens at the Solarium, the base of operations that CCSD had opened up to the Project volunteers for the weekend. Thank you to all of the individuals and organizations that helped to support this project and make it such a success. Join us again next year, January 14-16, 2017, so we can continue to help our senior citizens to keep living in Decatur – the city they have loved for decades and that they continue to love. For further information about the Project, please visit www.mlkserviceproject.com.
Save
Save