2017 MLK Service Project
15th Annual Martin Luther King Jr. Service Project
Amazing Work Done During Beautiful Weekend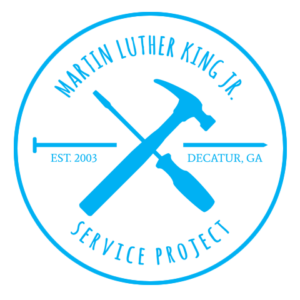 The 15th annual Martin Luther King Jr benefited from beautiful weather – a wonderful change from the ice the weekend before – and approximately 1,100 dedicated volunteers who made repairs at 32 homes of senior citizens. Volunteers also "repaired" the yards at those homes and cleaned all of the gutters.
The breadth of the work done was incredible. The signature project this year was transforming a kitchen and other spaces in the home of a senior in a wheelchair to offer better accessibility. Things we take for granted, like pulling a hot pan out of the oven, are not only difficult but also dangerous for someone in a wheelchair. Many other modifications were made to bring everyday items that we use routinely to the appropriate height for someone looking at items though the lower angle of the wheelchair's seat. These simple modifications included replacing ceiling fan light chains with longer ones and adding a small low mirror over the bathroom sink and below the medicine cabinet.
In order to make the kitchen appropriate for someone in a wheelchair, it took more than simply replacing kitchen cabinets. Some of the many steps involved included:
Demo plumbing and electrical
Install new base cabinets
Install countertops, make sink cutout, mount sink
Install new sink and faucet
Install new wall hung pantry cabinets
Cut additional shelves to fit cabinet
Reinforce backsplash on short counter
Reinstall refrigerator and washer/dryer
Paint kitchen walls
Install donated gas stove with accessible front controls
Making homes safe for seniors is a high priority. Volunteers rebuilt steps; stabilized a bathroom floor in danger of collapse; added grab bars in bathrooms; replaced doorbells that didn't ring; and replaced lightbulbs. Floors were repaired to prevent tripping hazards and prep work was done for two handicap ramps that will be completed after the project weekend. Decatur Firefighters helped with safety by installing or replacing batteries in smoke detectors.
The Project also strives to make these homes more affordable for these seniors. Simply installing weather-stripping in the homes makes a big difference. The work of professional electricians, plumbers, HVAC, and roofers helped ensure the homes were safer and more affordable. The professional roofer repaired three roofs during the weekend, leaving nine more to be repaired at a later date.
The Yard Repair team cleared out invasive plants and raked leaves – as many as 100 bags of leaves in some of the yards. This year, the Project partnered with Active Living department and Oakhurst Dog Park volunteers to redirect 200 bags of yard waste to the Dog Park to control erosion.
Save
Save